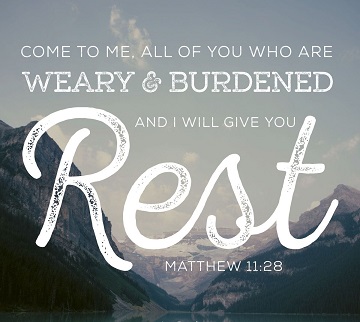 I hope you have enjoyed a relatively restful summer of fun and family. I say 'relatively' because sometimes it seems we need to get back to work, back into a routine to recover from time spent on vacation. That may be the reason dads and moms so look forward to school starting back up – a regular schedule helps all get back into a normal flow of things and maybe even get some rest.

Restful is not the way I would describe summer. I am blessed to enjoy a lot of time hiking and camping with other dads and young adults in the wilderness of Colorado. We were not always well rested as we hiked with our daughters, backpacked with sons and camped with other young men. I would say that we were 'rest-filled'. Checking out of the day-to-day noise and tuning in to His creation opens the door to a new level of rest in relationship with Jesus the Christ and with those dearest to us in this world.

Come to Me, all you who are weary and burdened, and I will give you rest. Take My yoke upon you and learn from Me, for I am gentle and humble in heart, and you will find rest for your souls. For My yoke is easy and My burden is light. – Matthew 11:28-30. Rest can be illusive if you look for it in terms of getting away on vacation or in a routine of a regular schedule. Burdens in this world are very real – from putting food on the table to nurturing a healthy marriage to raising a Godly generation. In my strength I tend to put my head down and plow forward in a 'provide and survive' mode – provide for my family and fight to survive another day. This feeds the cycle of needing a vacation and then needing to get back to my routine. When the Lord says, "Take My yoke upon you", He is saying to be rest-filled where you are. Day-to-day drudgery is not of our Lord. The unique giftedness we each have been given is all about Him – by His grace and for His glory. Be rest-filled and glorify the Lord at work, at play and all points in between.

In My Utmost for His Highest, Oswald Chambers writes, "Whenever anything begins to disintegrate your life with Jesus the Christ, turn to Him at once and ask Him to establish rest. Never allow anything to remain which is making dis-peace." Oswald goes on to ask, "Am I learning how to use my Bible? The way to become complete for the Lord's service is to be well soaked in the Bible; some of us only exploit certain passages. Our Lord wants to give us continuous instruction out of His word; continuous instruction turns hearers into disciples." As disciples, all are to be absolutely 'rest-filled' in our Lord.

Prayer guide: Lord, thank You for Your word and Your love for me. In my strength I tend to put my head down in stubbornness to get a job done and live to fight another day. It is nothing short of idolatry when I glorify self on that battlefront. Forgive me. I do not want to pass my nature of being "weary and burdened" to the next generation. I know You have me exactly where You want me and my role is to glorify You on the journey. Grant me wisdom to take Your yoke upon me, to learn from You through Your word and pass the baton of faith successfully to the next generation. Thank You Jesus. Amen.

A faithful father reflects a rest-filled life in relationship with Jesus the Christ.
Well written - Great job!
Posted by
Buddy
on
08/30/2018 - 01:39 PM
Exact message I needed at this exact moment
Posted by
Eddie
on
08/30/2018 - 01:39 PM
...taking a deep, cleansing breath...Thank you Lord.
Posted by
Karen M Chambers
on
08/31/2018 - 10:56 AM